Operation of Lancaster AJ-A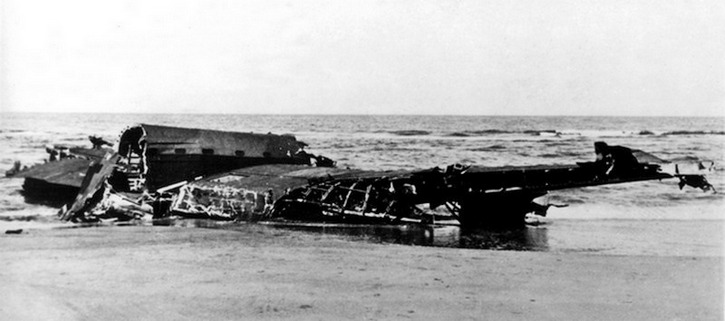 On the evening of 16 May 1943, Operation Chastise took off from RAF Scampton(Linconlshire)
Nineteen modified AVRO Lancasters, led by Wing Commander Guy Gibson, heading to the most important German dams, this operation will be one of the much discussed low-flying operations in military aviation history.

At 21:47, Lancaster AJ-A (ED887) flown by Squadron Leader Melvin 'Dinghy' Young, took off in the second section of the first wave towards Germany. This wave consists of three flights of three Lancasters and they flying via southern Netherlands towards the Möhne dam in Germany. Without problems Lancaster AJ-A reaches the Möhne dam, and if the dam is not yet broken, AJ-A will be the fourth Lancaster that will attack. The first three Lancasters are not successful, AJ-A is the next one and performs a perfect attack. The dam seems to be intact at first sight, during the attack of the next Lancaster (David Maltby) the top of the dam beginning to crumble and a breach starts to emerge. David Maltby drops his 'Upkeep' and making the breach in the dam wider. Through the opening the water flows into the valley and destroys factories, power stations, railway bridges and houses.

The attack on the Möhne dam is a great success. There are still three Lancasters with an 'Upkeep', under command of Guy Gibson and Melvin Young the Lancasters flying towards the Eder dam. Melvin Young was assigned to act as deputy leader in case anything should happen with Guy Gibson. The attack on the Eder dam is also a success. This group is now without 'Upkeeps' and they returning to RAF Scampton.

On the way back they flying as low as possible through three predetermined routes towards England. These routes are known as weaker defended (flak gaps). AJ-A takes the third route that goes from Germany towards Harderwijk via the island of Marken and towards Egmond.
Arrived at the Dutch coast, AJ-J is too far to the south, close to the heavily defended IJmuiden and within the range of the German anti-aircraft guns near Wijk aan Zee. According to the German reports, a report was made at 02.57 by the crew of the German anti-aircraft guns near Wijk aan Zee that they hit a Halifax (they think the Lancaster is a Halifax). At 02.58 AJ-A crashed south of Castricum aan Zee, all seven crew members were killed, and washed ashore between Wijk aan Zee and Egmond aan Zee, the last crew member at Castricum aan Zee on 30 May 1943. The crew members are buried at Bergen General Cemetery (North Holland)..

The 617 Squadron Netherlands Aircrew Memorial Foundation